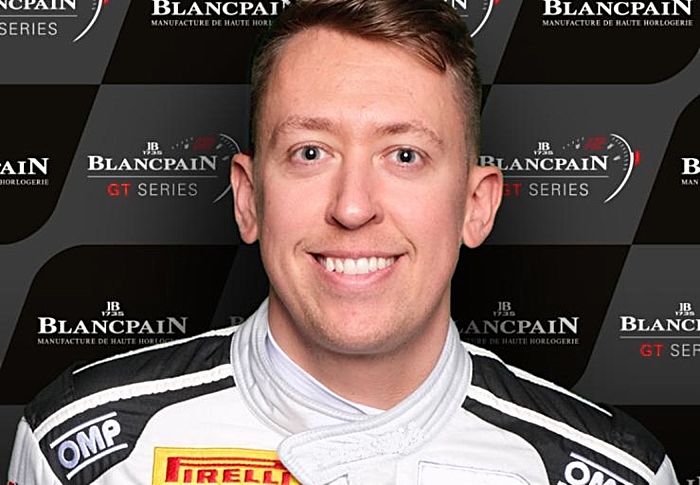 British GT Championship racer Jordan Witt is joining 2 Seas Motorsport for a full nine-round season starting this weekend at his 'home' circuit Oulton Park.
Witt, from Nantwich, signed an eleventh-hour deal with the McLaren Customer Racing Team.
He was originally scheduled to race in the GT World Challenge Europe Endurance Cup this year at the wheel of a Lamborghini Huracan with Barwell Motorsport.
But he changed his plans with the ongoing uncertainty around international travel due to COVID-19 pandemic.
He was presented with a chance to join high-profile 2 Seas Motorsport squad to race a McLaren for the first time.
And the 29-year-old says he is delighted to now be contesting the full UK-based season at the wheel of the No.10 McLaren 720S GT3.
Witt, who was GTC Class Champion in British GT in 2011 with Chevron and GT Cup Champion in 2016 with a privately entered Bentley, will team-up at 2 Seas with fellow Briton Jack Mitchell in the Silver Cup class.
He said: "I'm so excited to finally get my 2020 season underway this weekend at Oulton and I can't wait to begin working with the 2 Seas Motorsport guys and, of course, the engineers from McLaren.
"This is such a great opportunity for me, the McLaren 720S is an incredible car and I'm so looking forward to getting out on track in it for the first time.
"I'd like to say a huge thank you to the team owners Isa Al-Khalifa and Nicholas Cristofaro, as well as my manager Andy Meyrick who has put this deal together.
"I've got a lot of experience in GT racing now, with a number of different cars, and I'm planning to put all of that to good use to make sure we can have the strongest season possible together in British GT.
"It's going to be great teaming with Jack [Mitchell], he's a mega quick driver and his CV over the last few seasons speaks for itself.
"All of the ingredients are in place for a competitive year in British GT, the aim is to hit the ground running this weekend."
The entry list for the first two rounds of the revised post-lockdown British GT season at Oulton Park's 2.69-mile International Circuit is expected to feature more than 20 cars with 12 of those in the headline GT3 category.
Opening practice at Oulton Park will get underway at 9.30am on Saturday August 1 with the second session following at 12.10pm.
Qualifying will then take place from 4.10pm.
On Sunday August 2, round one of the British GT season will start at 1.15pm with round two scheduled to begin at 4.45pm.
Both one-hour encounters will be streamed live online at the British GT Championship Facebook page HERE and the series Twitter feed HERE, as well as through SRO's GT World YouTube channel HERE.
Rescheduled 2020 British GT Championship Calendar:
Rds1&2 – Oulton Park International Circuit, Cheshire – 1st/2nd August
Rds3&4 – Donington Park Grand Prix Circuit, Leicestershire – 15th/16th August
Rd5 – Brands Hatch Grand Prix Circuit, Kent – 29th/30th August
Rd6 – Donington Park Grand Prix Circuit, Leicestershire – 19th/20th September
Rds7&8 – Snetterton 300 Circuit, Norfolk – 3rd/4th October
Rd9 – Silverstone Grand Prix Circuit, Northamptonshire – 7th/8th November
(Image, top, supplied courtesy SRO. Other images courtesy of 2 Seas Motorsport)