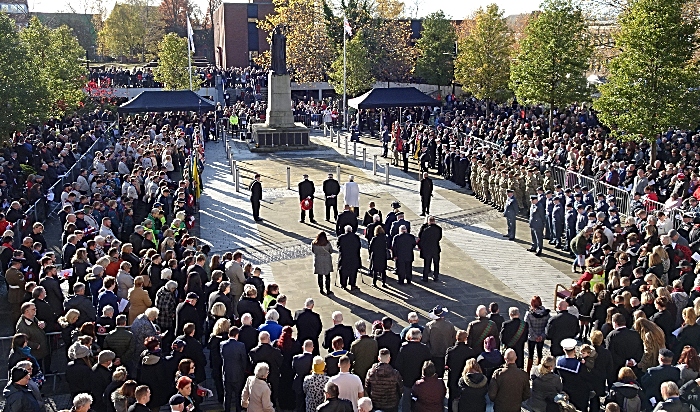 More "virtual" Remembrance Sunday services are being held across Crewe and Nantwich as real services have had to be cancelled because of Covid lockdown.
Nantwich Town Council announced earlier this week they would be streaming the service live from St Mary's Church in Nantwich.
Also, Cheshire East Council is to stage a short virtual service for people to view.
And Crewe & Nantwich MP Dr Kieran Mullan is also involved in broadcasting the virtual Remembrance Service.
The CEC virtual service will allow viewers to see a wreath being laid by Cheshire East Mayor Cllr Barry Burkhill, hear a reading from mayor's chaplain Rev Ralph Kemp and a recital of the Act of Remembrance.
Cllr Ashley Farrall, Cheshire East Council Armed Forces champion, said: "I would encourage everyone to not only watch our virtual service but to carry out their own act of remembrance safely in their own homes.
"These are very testing times but for all that it is true to say this, it is very important that we honour those who gave their lives in order that we can enjoy the freedoms we have now. We shall remember them."
This year's virtual service is available to view on the council's YouTube channel by going to https://youtu.be/3283oK7B4-g
Crewe & Nantwich MP Dr Kieran Mullan will also be broadcasting a virtual Remembrance event on Sunday morning.
Royal British Legion will lay wreaths that have been dropped off at the council office.
The MP said: "I know how important marking in the event is for so many people.
"Like many others I feel very strongly that I want to mark it as a local community still, so I would welcome anyone who wants to, to join our virtual Remembrance event.
"I am pleased to be able to partner with the Crewe Branch of the Royal British Legion, Crewe Brass Band, Crewe Sea Cadets and local students and Churches to host a short virtual ceremony.
"We will be displaying the names of all those listed on the Crewe Memorial and also encouraging people to donate to the Royal British Legion who will inevitably be missing out on donations people would normally make them in person.
"There are a number of local online events also taking place for example in Shavington, Nantwich and Willaston, we have a full list for people to choose from on the event page."
The event can be watched on Facebook from 10.45am via the following link from 10.45am
https://www.facebook.com/events/821002725332961
Other local Crewe & Nantwich virtual Remembrance events include
Shavington 10.30am
https://shavingtononline.co.uk/remembrance-in-shavington-2020-745a32eece9
Nantwich 10.55am
https://www.nantwichtowncouncil.gov.uk/remembrance-2020/
Willaston 1.30pm
https://www.facebook.com/events/993730394461703/
Wistaston 3.00pm
https://www.facebook.com/wistastonmemorialhall