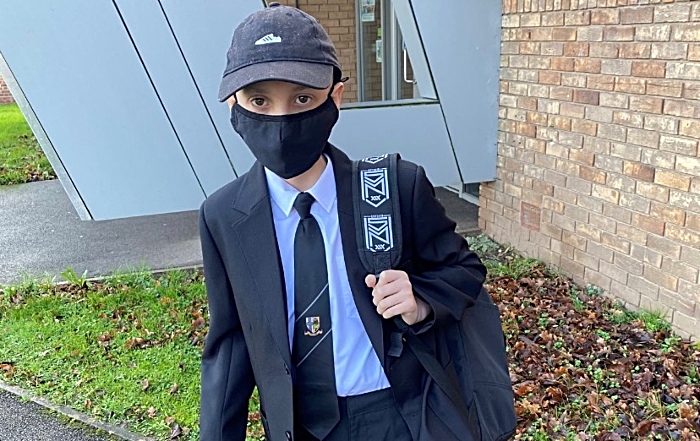 A Christmas wish has come true for a remarkable Wistaston boy whose brave fight against cancer prompted a massive fundraising drive for his treatment.
Eleven-year-old Georgy Capener was diagnosed with the highly malignant Ewing's Sarcoma, a rare form of bone cancer, following a fall in a friend's garden on Easter Sunday in 2018.
He has undergone numerous rounds of high dose aggressive chemotherapy and radiotherapy since then, lost the majority of his right arm as a result of the treatment and now has a titanium prosthesis.
The family launched a campaign in the summer to raise more than £120,000 for treatment not available on the NHS.
To date a staggering £248,481.27 has been raised for vital stem cell treatment.
And now, while taking a break from chemotherapy to build up his strength, former Wistaston Church Lane pupil Georgy has been able to return to school for a few hours a week to see his friends.
There were cheers for him at Shavington Academy where staff and pupils have been a big support.
His mum Helen said: "On December 10, 2018 we were told that his operation was one of the biggest to be performed at Birmingham orthopaedic hospital and to be prepared for the fact he may come out of surgery without his arm.
"This was one of the worst days during this journey.
"He had his humerus bone, elbow and shoulder removed but they had managed to replace them all with a titanium prosthesis.
"After one night in intensive care, Georgy returned to the ward and walked and was playing on his Xbox!
"This boy is just amazing.
"He never fails to make me laugh with his crazy sense of humour, positivity and that smile that I see every day just makes me so happy.
"He's had months of aggressive treatment which doctors have stopped for a while to give his bone marrow and body a break from the side effects so he can eat and build up strength.
"During all this he has missed the company of other children and just to put his uniform spend a few hours at Shavington Academy was a real joy for him and a lovely pre-Christmas treat.
"We hope he can return next term."
Helen, who regularly posts on Facebook thanking local people and businesses for their fundraising and donations, hopes Georgy can get treatment soon.
She added: "His tumour is stable at the moment and he has been eating well.
"Georgy has another scan at the end of January then we will know more about what step is next once we have the results.
"The love people have shared and their generosity through donating and fundraising in difficult times has been truly overwhelming."
The family, which includes Georgy's dad Richard and sisters Ellie, 18, and Chloe, 14, will celebrate Christmas at home in Wistaston.
Messages of goodwill have flooded in on Facebook and there's been an array of cards and gifts to his home.
"We can't thank people enough," added Helen.
To support Georgy go to his JustGiving page https://www.justgiving.com/crowdfunding/helen-capener-4