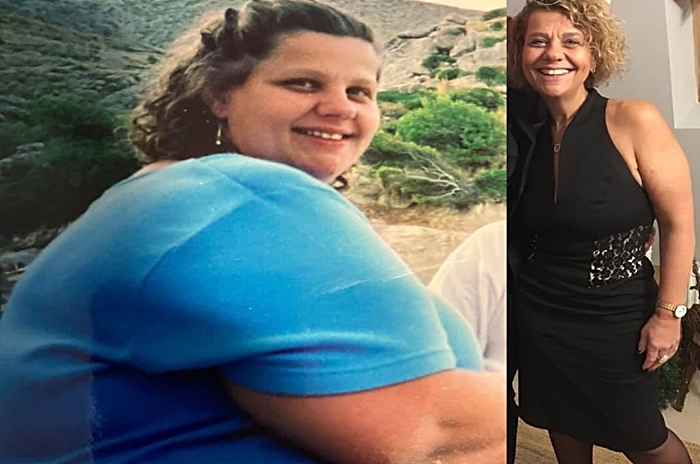 A Nantwich woman lost an incredible 21 stone after a doctor warned her she would not survive to see her daughter start school.
Now Michelle Bufton wants to help others when she launches a weight loss club in Wybunbury later this month.
She will run a "virtual" Slimming World group from January 25 – and has been inspired by her own journey.
That started back in 2003 when she topped scales at a massive 32 stone and a hospital consultant told her she would not survive to see her daughter start school if she did not take drastic action.
"This was the reality check I needed to take control of my personal health," said Michelle.
"I had tried and failed at every fad diet throughout my life and only had a fleeting success, the weight always came back, I needed to find a plan that was easy to stick to.
"My weight issues had dominated my entire life, having been heavy since I was 5 years old.
"I topped the scales at 32 stone, living in denial, hiding myself behind baggy clothes and removing all the mirrors from the house so that I didn't to see how bad things had actually got.
"I was completely detached from reality.
"I had accepted poor treatment during my marriage as I thought this was all I was worth. I had no self-confidence or self-belief. It was time for a drastic change."
Michelle plucked up the courage to attend her first Slimming World class in 2003.
"I walked in and hovered at the door, anxious, terrified at facing the reality of my weight.
"The consultant, an amazingly warm woman called Claire, who is still an important part of my life today, 17 years on, came to me.
"It was at this point I broke down with the emotion of it all.
"She hugged me and said 'this is the worst it will be, it will get better, I'm here for you – You can do this!'
"She was with me every step of the way."
It changed Michelle's life and she lost 10 stone in just two years.
"Over the years I dipped in and out of class, but each time I stopped the weight and the bad habits returned.
"My success was always dependant on me going to class, having the accountability of stepping on the scales each week, staying to class and hearing all the inspirational stories.
"Class was a time for me, it was always there for me, in good times and bad, that was a safe place for me to be with friends, never judgmental always welcoming.
"After many years of stopping and starting… I decided I was in the right place, size 12.
"I never expected to get to this point, but with the support of my group and my consultant I got there and remained at target for many years. I stayed at class every week, it was my time and I loved it."
Michelle also joined the gym, started Aqua fit, and progressed to classes such as Zumba and Clubersize.
"Every step I took made me feel better about myself.
"Slowly but surely I started to see the changes, it did take me ages to realise I was no longer a size 32, shopping was becoming easier and more enjoyable.
"The old clothes never went to waste though, as we started a clothes swap in class and those clothes that didn't find a new owner went to a local charity.
"A destructive domestic situation gave me one of my biggest challenges. In the past four years I have completely turned my life around, started a new life back in Cheshire, with an abundance of self-confidence and resilience, which I think will help others with their journeys to a happy healthy life."
Michelle's new Slimming World class starts on Monday January 25 at Wybunbury Village Hall.
Contact me for further details of my at home service 07376 630601.