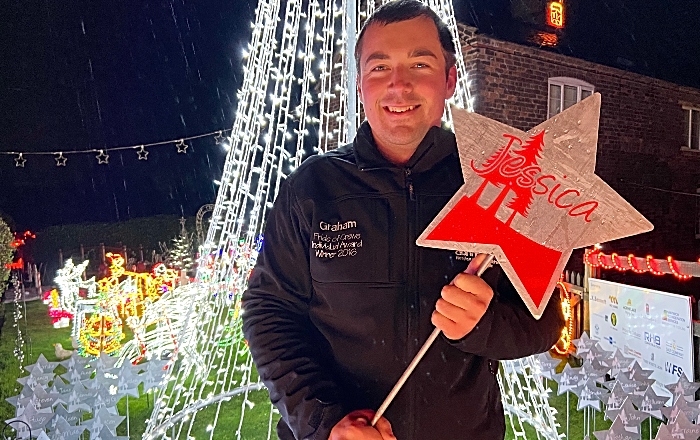 The Weston Lights Christmas Display could return in 2021, organiser Graham Witter hinted.
Graham has helped raise another staggering £25,450 from the latest event, which was re-organised as a "Starlit Garden drive thru" amid Covid pandemic restrictions.
Thousands of cars travelled to the spectacle throughout December – but it led to critics on social media amid delays on local roads.
And at the time, Graham said the negative comments would mean it would be his final event after eight years.
In that time he has raised an amazing £150,300 for Donna Louise Hospice, which cared for his young sister before she died.
Now Graham has told Nantwich News that he will consider all the factors before making a decision on whether to run it again in 2021.
He said he would "make a decision later on this year based on personal commitments and the situation of the pandemic".
All proceeds will be going to The Donna Louise charity who 'provide a lifeline to hundreds of families across Staffordshire and South Cheshire'.
Graham, a resident in Weston, has hosted the festive display every year since 2013.
He added: "I'm absolutely thrilled to be handing over so much money to The Donna Louise.
"When I first started planning the display, back in the summer, I wasn't sure whether we would even be allowed to go ahead.
"But I came up with the idea of a drive-thru display so that people could enjoy it from the safety of their own car.
"I'd like to say a big thank you to my mum and dad, my amazing volunteers and sponsors, my event partner Whitby Morrison and principal sponsor Rhino Safety.
"Without all their generous support, our Starlit Garden wouldn't have been possible.
"The support throughout December was overwhelming and our visitors were incredibly generous."
Money has been raised by the keen fundraiser for the charity each year in memory of his sister Jessica, who had Cardiofaciocutaneous Syndrome, severe epilepsy and complex health needs.
Jessica stayed at the well-known hospice in Trentham.
Dot Gillespie, director of care at The Donna Louise, praised Graham.
She said: "After the challenges of 2020 it would have been understandable if Graham had decided not to go ahead with December's display, but he was determined to make it a success and his Starlit Garden exceeded everyone's expectations.
"I'd like to say a massive thank you to Graham and his family on behalf of the children and their families who will benefit from the money he's raised."
Graham's 2020 fundraising will be used to fund The Donna Louise's music therapist for 24 months and some new musical equipment in the Hospice.
You can donate to The Donna Louise charity here.
(words by Hannah Youds)