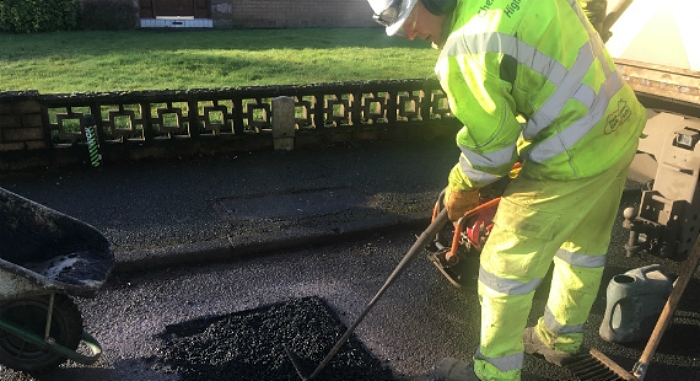 Highways chiefs say they will repair a badly damaged road on one of the busiest routes into Nantwich in the next 24-48 hours.
The A51 Newcastle Road, close to Cheerbrook farm shop, was badly damaged more than two weeks in floods caused by Storm Christopher.
It has left deep and wide potholes across the carriageway, impacting on thousands of vehicles as well as cyclists using the route each day.
Many took to social media to express their anger at the lack of action, but Cheshire East claims it "has been prioritised".
Readers also pointed out a range of other busy roads suffering badly maintained and pothole-ridden surfaces.
Nantwich News contacted Council Leader Cllr Sam Corcoran and Cabinet member for highways Cllr Laura Crane demanding answers.
In a statement issued less than 24 hours later, Cllr Crane said: "The current weather pattern of freezing temperatures and frosts, mixed with heavy rain does, unfortunately, impact on road surfaces.
"We are experiencing an above-average number of road defects caused by the combination of freezing sub-surface water, salt and thaws – the perfect recipe for potholes to form.
"Cheshire East is not alone with this challenge and we are prioritising, as quickly as possible, our schedule of works to tackle this additional work.
"All reported potholes and road defects continue to be assessed, along with regular scheduled inspections.
"A highways officer has visited the site and repair work has been prioritised – with patching work due to be done on Friday 12 and Saturday 13 February.
"This will require a closure from the roundabout to the lights between 9.30am and 3.30pm on the Friday and then a single lane closure from the roundabout between 9.30am and 3.30pm on Saturday.
"Diversions will be in place, access to businesses will be maintained and gatemen will be in place for access management."
To report any road defects, including potholes, visit: www.cheshireeasthighways.org/report-it-general.aspx or call 0300 123 5020.
(Library image for display only)