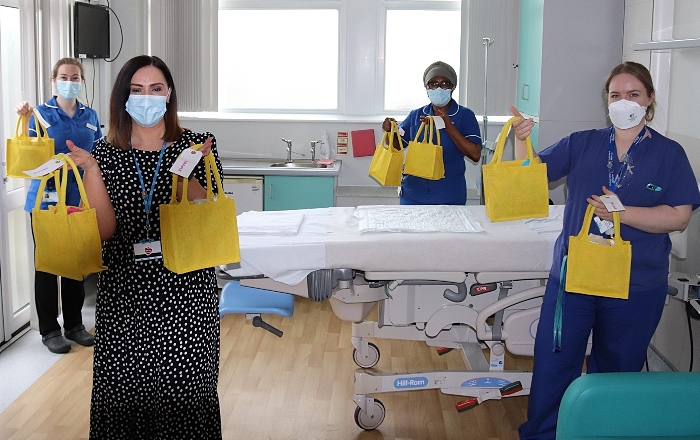 Leighton Hospital has received pregnancy loss comfort bags to support bereaved local parents.
The Mid Cheshire Hospitals NHS Foundation Trust facility in Crewe has received the self-care packages from the national baby-loss charity CRADLE.
The charity provides extra support for parents going through baby loss.
This includes producing comfort bags for women who are spending time in hospital.
The hospital has received its first set of the comfort bags, which contain essential items such as shampoo, shower gel and toothpaste, that can be given to women who are admitted following pregnancy loss up 24 weeks gestation.
The bags also contain a 'Dear Friend' letter which signposts women to where they can access extra support, such as counselling.
Noeleen Rodgers, Ambassador for CRADLE at Leighton Hospital, said: "During the first wave of Covid-19, I was redeployed to work in Urgent Care at Leighton.
"It was there that I saw that there was more we could do to support ladies who were presenting with early pregnancy loss.
"Having suffered loss of my own, I was already in contact with CRADLE and decided to implement the service at Leighton."
Jenny Butters, Head of Midwifery of Leighton Hospital, said: "We would like to thank Noeleen and the CRADLE team for bringing this important service to Leighton Hospital.
"We would also like to thank the many individuals who have donated items to make the comfort packs.
"Women can sometimes find themselves admitted to hospital at short notice and the bags, which contain a number of items they may not have with them, will go a long way in providing some comfort during a difficult time."
(Pic: Leighton staff with CRADLE comfort bags – Emily Robson, Midwife, Noeleen Rogerson, Cradle, Margarita Sengwayo, Midwife, Nicky Ward, Midwife)