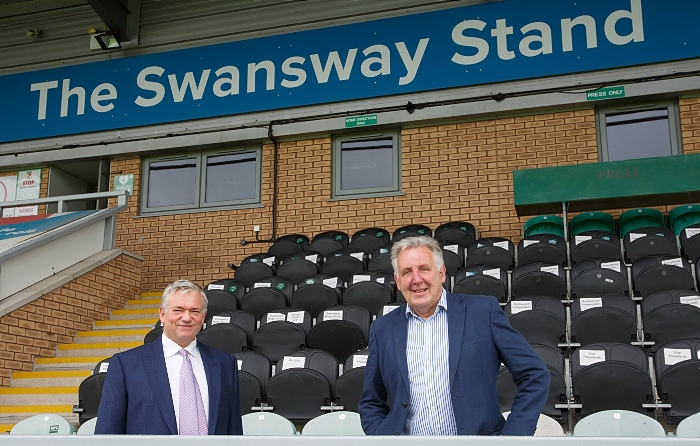 Nantwich Town have renamed their main stand as "The Swansway Stand" after securing a three-year sponsorship deal.
Swansway Group is a family-owned business with car and van dealerships across the North West and Midlands.
They are a major employer in Crewe and Nantwich, with Crewe Audi, Crewe Volkswagen, Crewe SEAT, CUPRA Crewe, Swansway Jaguar Crewe, Motor Match Crewe an Accident Repair Centre and Head Office functions in Crewe.
Swansway Group Directors David Smyth and his son George have been long-time fans of Nantwich Town and attend most matches.
David said: "Swansway Group has been based in Crewe for nearly 18 years and we have always been grateful for all the support we have received from the people of Crewe and Nantwich.
"This was a particularly special opportunity for my family and me to show some reciprocal support to an organisation that does so much to engage and entertain local people, young and old.
"Nantwich Town Football Club has been in existence since 1884 and it is with great pleasure that we have been able to contribute to its ongoing success and enduring legacy."
Dave Clapp, Nantwich Town FC director, added: "The impact on our club budget due to the lack of ticket sales for match attendances during the various lockdowns, has been significant.
"Swansway Group's support for us has been both welcome and timely.
"We very much appreciate their interest in our continuing success both as a team and as a provider of grass-roots training for up-and-coming talent.
"And we are looking forward to an exciting season together as the pandemic restrictions are lifted."