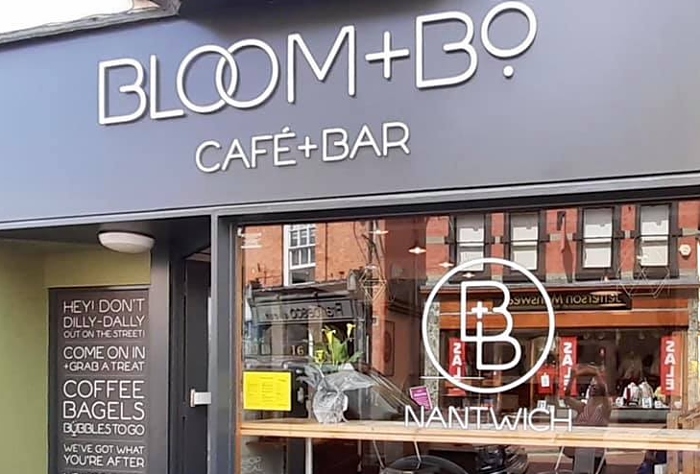 An award-winning sandwich and coffee shop in Nantwich is having to close down because of the pandemic, owners revealed today.
Bloom & Bo, on Pillory Street, will close its doors for the final time on Saturday (September 18).
Bosses of the shop – which has won several awards over the past few years – said they were unable to continue after the impact the pandemic and various lockdowns have had on custom.
In a statement on their social media pages, bosses said: "It is with a very heavy heart we announce that we will be closing our doors for the final time this Saturday 18th September.
"We have, like many, encountered a very challenging last 18 months which has unfortunately continued to affect our ability to sustain the business that we had hoped to build and have to admit that we are now another casualty of these uncertain times.
"We are grateful for all the support that we have received from the people of Nantwich and beyond and bid you all a fond farewell for now."
Owner Kerry told Nantwich News: "We actually took on the business January 2020 evolving it to become Bloom + Bo cafe bar with the emphasis on us being able to develop the bar element as we have an alcohol license.
"So for us, it has been incredibly difficult and such bad timing.
"Certainly 'working from home' as well as the lockdowns, have seriously impacted our business and revenue. It's meant that we've needed to diversify time and time again.
"As a married couple with a young family we've had to find other employment to support the business and it's at the point where we had to choose a more sustainable future for our family without the added stress of a business heavily reliant on the footfall in town.
"We've also really struggled to find staff as it seems so much of the hospitality staff have left the industry.
"It's a shame that it hasn't worked out for us as we've invested a significant amount of time and efforts into the venue but it's now time to move on."
Kerry and Garry are staging a "sale" to shift their existing stock, starting tomorrow (Sept 16) to Saturday.
There will also be a charity raffle with profits going to The Christie cancer hospital.
Bloom won three Gold "medals" and a bronze at the Chester Food & Drink Awards between 2014 and 2017.
Judges consistently voted it one of the best sandwich outlets in Cheshire.