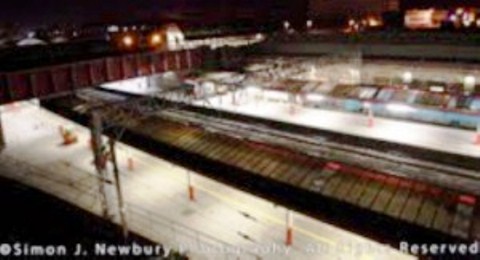 Life is returning to normal on Nantwich Road and Crewe railway station after the dramatic explosions which rocked the area.
These exclusive pictures, provided by Nantwich photographer Simon J Newbury, show police sealing off streets, and the deserted station which was evacuated and closed.
It's believed the explosions, which injured two people and sent manhole covers and flames high into the air, were caused by underground electricity faults.
The injured man and woman suffered minor burns to arms and faces and were taken to Leighton Hospital last night.
Cheshire Police called out engineers to inspect the bridge at the station.
Road closures affecting Nantwich Road and Gresty Road were lifted at around 11.30pm, about three hours after the initial blasts.
Train delays through Crewe carried on into the early hours of the morning.
Virgin Trains said today they are planning to run a full service as normal today.
However, Cheshire East Council Transport has warned travellers of "severe disruption to buses running near Crewe Rail Station" because of last night's incident.
Passengers are urged to call Traveline 0845 140 2666 for full details.
A Cheshire Police spokesman said today: "The station was closed as well as Gresty Road while the cause of the incident was investigated by British Transport Police and engineers.
"There are not believed to be any suspicious circumstances surrounding the explosion."
(pics courtesy of SJN Photography)