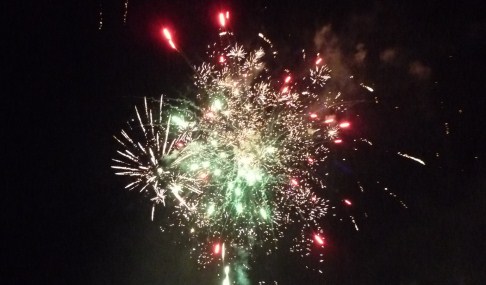 By Jonathan White
The 34th annual Wistaston Fireworks Display went off with  a bang as villagers came out in their hundreds.
The event started with a children's best pumpkin and best fancy dress competition at the Park Drive/Westfield Drive.
A procession, led by bagpiper Reg Flower, then proceeded to the Eric Swan Sports Ground off Church Lane for the fireworks display.
Entry was by donation and all proceeds go to The Ray of Hope – a Crewe-based charity which supports the neonatal unit at Leighton Hospital.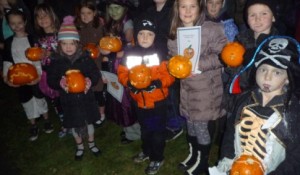 Results of the children's best pumpkin competition were 1st prize Rebecca Jones, 2nd place Lauren Rossiter, and 3rd Natalie Turner.
Results of the children's fancy dress competition were 1st Jasmine Burrows, 2nd Mia O'Donnell, 3rd Lewis Rossiter.
Each entrant received sweets and the winners received a trophy to keep, donated by Herbert Locke.
Community radio station RedShift Radio provided and manned the PA system before the fireworks and music during the display.
Professional fireworks display specialist Comet Fireworks  setup and lit the display.
Fireworks used during the 14 minute display took nine hours to setup and included shells, cakes, mines and Roman candles.
The 35th South West Cheshire Scout's sold cold and hot drinks and food during the event, organised by Wistaston Community Council and funded by the Wistaston Community Council and the Wistaston Parish Council.
Geoff Armitage, of Wistaston Community Council, said: "The children's competitions were very well supported. The procession went like a charm and very few motorists were held up.
"It was the best ever turnout and the best ever fireworks and music and we thank everyone for attending."
Wistaston Community Council needs new members to help organise events in the village. 
Visit http://www.wistastoncommunity.co.uk for further information if you would like to join.