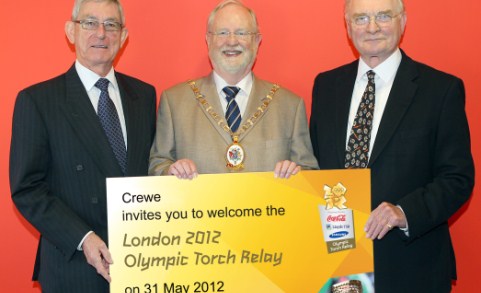 Residents in Crewe and Nantwich can catch a glimpse of the Olympic Flame when it blazes through Cheshire East next year.
Four Cheshire East towns will form part of the Olympic torch relay route on May 31, as it passes through Crewe, Congleton, Macclesfield, Knutsford and surrounding areas.
People can join in the excitement of the arrival of the torch and celebrate the achievements of the torchbearers.
They are four of more than 1,000 villages, towns and cities announced by the London Organising Committee of the Olympic and Paralympic Games (LOCOG) through which the Olympic Flame will be carried in the relay.
LOCOG has worked with Cheshire East Council to devise the route. Street by street detail will be confirmed next year.
Cllr Rod Menlove said: "I am sure this will mean an awful lot to the people of Cheshire East to see the Olympic Flame and to witness the spectacle of the Olympic torch relay.
"I would urge everybody to join in the Olympic spirit and mark the countdown to the start of the Games.
"This will shine a light on Cheshire East as its people come to welcome the flame and support the inspirational torchbearers who have volunteered."
Sebastian Coe, chairman of LOCOG, said: "We are thrilled to confirm that Crewe, Congleton, Macclesfield and Knutsford will act as host locations for the Olympic Flame, extending an invitation to people in the area to welcome the Olympic torch relay during its journey around the UK.
"This is the UK's moment to shine and I want to encourage people across Cheshire East to start planning how they can be part of this once in a lifetime opportunity and show their support for the inspirational torchbearers chosen to carry the Olympic Flame as we count down to the start of the Olympic Games."
The 70-day relay will start at Land's End on May 19 and will travel 8,000 miles around the country.
An interactive map of the route can be viewed at www.london2012.com/olympictorchrelaymap
Pictured: Cllr Menlove, Mayor of Cheshire East Cllr Roger West, Leader of Cheshire East Cllr Wesley Fitzgerald.