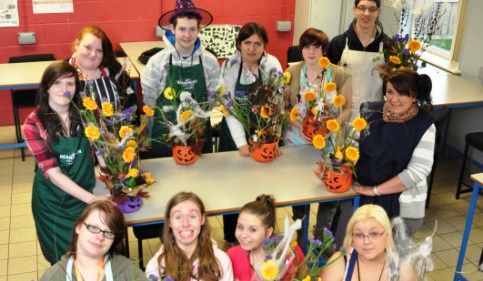 Ghosts and ghouls crept into floristry workshops at Reaseheath College when junior florists made spooky Halloween designs.
Eleven students on a new floristry course made individual designs combining flowers and foliage, pumpkins and ghostly accessories.
It was their first attempt at a full floral arrangement with other topical themes such as Bonfire Night and Christmas also being tackled.
The students, aged 16 to 20, spend three days a week at the Nantwich college learning basic floristry skills plus maths, English and computer literacy.
Several students are keen to move up to Level 2 next year and follow a career in floristry.
Course manager Kath Jinks said: "Some of the students are very gifted and imaginative and have a good career ahead of them.
"They had a marvellous time working on their Halloween designs and came up with some really good ideas.  Ruth and I were very proud of their efforts."
Student Eleanor Phillips, 17, from Tarvin, said: "The Halloween theme was really good fun. It encouraged us to be creative and helped us develop our skills. The course is really good and I'm hoping to go on to the Level 2 course next year."
Reaseheath College's award winning floristry department offers courses from introductory to advanced levels plus one day workshops for professional and leisure florists. Contact 01270 613242; email [email protected] or see www.reaseheath.ac.uk