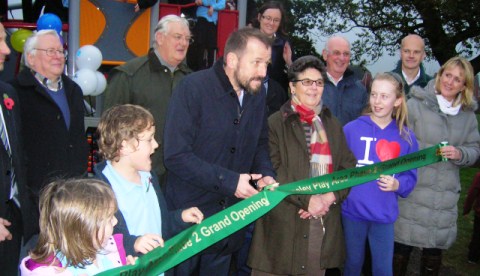 Families in Stapeley braved the cold to watch Nantwich  TV star Ben Miller officially open the second phase of a new recreation area.
Youngsters, mums, dads, and grandparents gathered next to Pear Tree Primary School to watch the comedian and actor cut the ribbon at the ceremony.
Speaking  at the event, Miller made a quip about looking like fellow comedian Rob Brydon before paying tribute to the hard work of all involved, and said how much the area needed the play area.
"It's a successful mixture the old and the new, as Nantwich itself is," he said.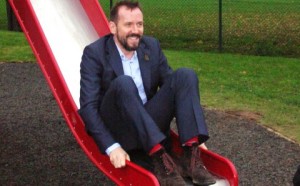 Miller, whose sisters and their families live on the Pear Tree estate, grew up in Nantwich and went to Malbank School.
He made a name for himself as one half of the Armstrong and Miller comedy pairing on BBC. He is currently starring in the BBC drama series Death in Paradise.
Tracey Knight, of Stapeley Parish Action Group, said: "Many thanks to everyone who attended our phase 2 opening celebrations.
"Special thanks to Ben for making a guest appearance. We would also like to say a big 'thank you' to Community Spaces (Big Lottery Fund) and Groundwork Cheshire & County Landscape Development for implementing the project.
"Thanks also to Cheshire East Council, Pear Tree School PTA and the community of Stapeley for support towards our new children's play area."