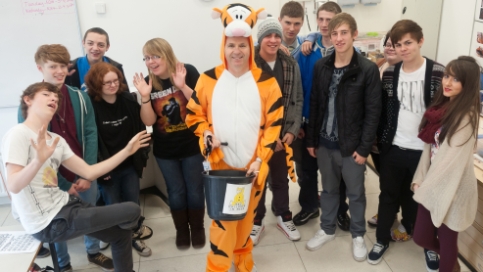 Kind-hearted fundraisers across Nantwich and Crewe have raised bucket-loads of cash for the BBC Children in Need.
The annual event, which has a "Show Your Spots, Let's Raise Lots" theme this year, has kept hundreds busy collecting vital donations.
Staff, students and pupils at colleges, secondary schools and primary schools across the borough have been particularly busy.
Many pupils were allowed to dress up in spotted clothing today if they made a small donation to the charity.
Shopkeepers and workers in Nantwich and Crewe also dressed up and collected donations.
South Cheshire College students turned up in fancy dress before sweeping through the campus with collection buckets.
They also staged a tombola and raffle tickets were sold with prizes up for grabs and there was also a home-made cake stall.
Mature students turned up in pyjamas and held a 'Guess the Number of Sweets in the Jar' competition, and Hair and Beauty students painted nails in Pudsey Bear colours for a small fee.
Staff in the college's Starting Point Child Care Centre also turned up to work wearing pyjamas.
Clive Armitage, Youth and Community Worker at South Cheshire College, said: "We were delighted to support Children in Need with a series of events again this year.
"As well as the fancy dress, karaoke and cake stall events there was lots more happening around the College campus. The staff and students have all done us proud once again."