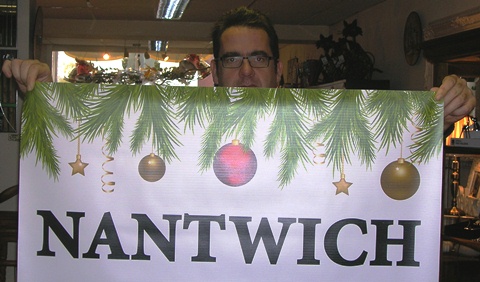 Dozens of retailers in Nantwich town centre have come together to launch a pre-Christmas 'Sunday Trade' campaign.
Around 70% of independent stores in the town are backing the idea, and will be open on the next four Sundays leading up to Christmas.
Organisers hope it will attract more shoppers into the town on what has become one of the busiest shopping days of the week.
The idea is being spearheaded by Mick Taylor, of Taylors of Cheshire who also helps run Inside Paradise, and Steve Lawson, of Nantwich Bookshop.
Mick (pictured) said: "As retailers we felt we had to do more to get people in the town at weekends.
"We need to set groups of retailers to look at how we can work with festivals in the town and move forward and do more things for the public and make it more interesting."
Steve added: "Sunday is the second busiest retail spend day in this country. It's the often the only day families can be together to go into town, look around, do some shopping.
"I've noticed it has got much busier on Sundays in the town centre over the last year. If we can get 50% of shops open it should be a success. It's been met with a positive response from other retailers."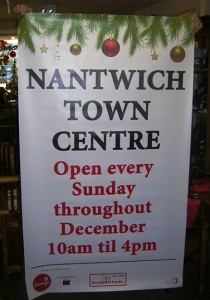 Ten large banners will go on display on all the major routes and roundabouts leading into the town, promoting the 'Sunday Trade' campaign.
The following stores are taking part:
BusyIT, Enzo, La Maison, PRJones Jewellers, Thorntons Hallmark Cards, Ubuhle on High Street.
Inside Paradies, Johnsons Printers and Brampton The Pie Shop on Oatmarket.
Bratts, Clewlows, Garlands Florist, Grapevine, Reflections Hallmark, Harvest Interiors, Moshulu, Pockets, Seabreeze Fish Shop on Pepper Street.
Mia Stanza, Escape, Haysteads Butchers, Spexmad Opticians, Talbots Shoes on Beam Street.
Atigno, A T Welch's, Bizzy Bods, Brookshaw's, Cafe De Paris, Foundations, Jepsons, Magpie Gifts, Paper Place, Secara, The Gourmet Cook Shop, Seriously Gifted on Hospital Street.
Gas Flame Centre, Jeffersons Menswear, Nantwich Museum, Pickwicks, Rodney Densem Wines, STR Menswear, Something Pretty, Dressing Room on Pillory Street.
Firenze, Jacksons Opticians, Red Melon, Essence, Skinhealth Spa, TV Centre, The Cheshire Cat, Mia Stanza Bedrooms on Welsh Row.
Ginger & Pickles, Homemade on Mill Street.
Magpie Cards on the Cocoa Yard.
All retailers in Nantwich Indoor Market are also involved.