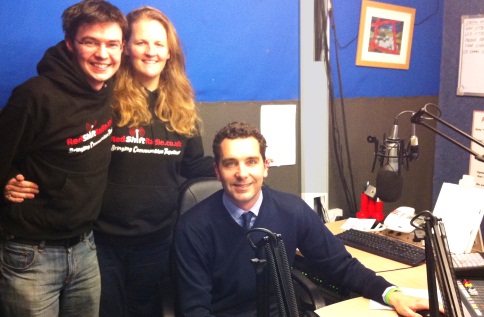 Crewe and Nantwich MP Edward Timpson called in to South Cheshire broadcaster RedShift Radio during their 28-day test licence.
Mr Timpson was the guest on "Clocking Off" with Dr Gav, the station's popular drive time show.
Redshift is broadcasting across South Cheshire on 87.7FM on a Restricted Service Licence (RSL) until December 18.
Mr Timpson said: "RedShift is a perfect example of a community dream being realised through the dedicated work of local volunteers.
"Local radio is very important to people throughout the UK and here in Crewe and Nantwich RedShift's success has demonstrated the role that radio can play."
More than 50 volunteer presenters and a small handful of paid office staff run the organisation, based in the Brierley Business centre in Crewe.
It also broadcasts online throughout the year, with at least 14 hours of live output each day since September 2010.
Co-founder and director Liz Southall said: "We urge everyone, whatever age you are, to please have a listen while we are on 87.7FM and let us know what you think and more importantly, exactly what you would like to hear on your local station."
Listeners can interact via text or phone on 01270 262 262 or email [email protected]