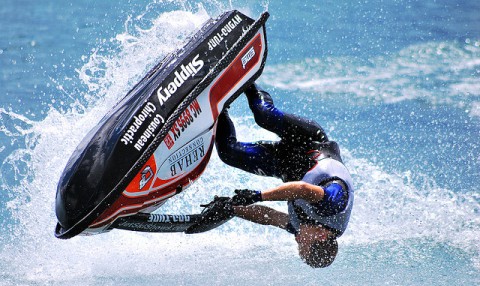 A champion jetskier from Nantwich was badly injured as he attempted a stunt at a competition in the North East.
Ant Burgess was taken to hospital with a dislocated shoulder after the crash at the UK Freestyle SurfShred event in Seaton Carew.
Ant was among 22 thrill-seeking riders from all over the country taking part in the festival, hosted by Hartlepool champion jetskier Jason Bleasdale.
The accident happened as he tried to perform a move called a barrel role and landed badly.
The 22-year-old was taken to casualty at the University Hospital of North Tees in Stockton.
Competitors battled it out to perform the most spectacular stunts on the water and prizes were awarded at the end of the day.
Ant has had huge success in a sport he now competes in professionally across the globe in the USA, Taiwan, Holland, Belgium, Portugal and Spain.
He started jet-skiing aged just 12 on his father's stand-up ski, and in 2003 entered his first competition – Freestyle National Tour (FNT) – finishing 5th in the amateur class.
He has been crowned junior champion at the JSRA British Championships in 2004,  was runner up in JSRA British Championships in 2005,  and won the JSRA British Amateur Championships and IJSBA World Amateur Championships in 2006.
Ant continued his success in 2007, winning the JSRA British Pro Championships, EJSBA European Championship Vice Champion, and IJSBA World Pro Championship 3rd Place.
(PIC: courtesy of Armchair Picture Taker)