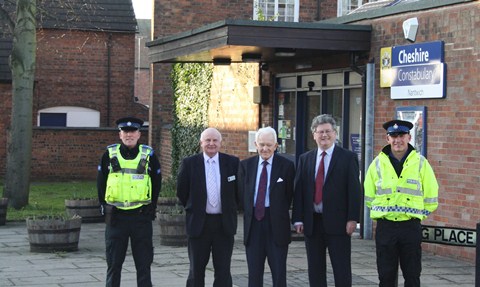 Nantwich police station on Beam Street has gone green with a new solar panel system providing energy from the sun.
Computers, CCTV system, and even small electric items are all now powered by the sun, cutting emissions and reducing bills.
Nantwich is thought to be the first police station in the North West to take advantage of the new technology. Middlewich will soon follow suit.
Police Authority members Michael Darby and Peter Nurse visited Nantwich to find out more from project lead Keith Cozens.
Keith said: "We started back in June but had to apply for planning permission to fit the panels to the roof of the building.
"The panels at Nantwich and Middlewich were to trial the system − now we know it is working we are hoping to roll it out to seven more Constabulary buildings across Cheshire. The idea is to save money and reduce carbon emissions.
"The panels don′t need sunlight, they just need daylight. Even on a cloudy day they still get what they need to power the building."
The panels at Nantwich cost around £11,000 to install, funded by the North West Improvement and Efficiency Partnership (NWIEP).
It is hoped the panels will have paid for themselves in five years.
Gillian Bishop, chief executive of NWIEP, said: "We have been keen to support innovative projects that not only deliver efficiencies for the public sector but also generate data and evidence that others considering similar projects can learn from."