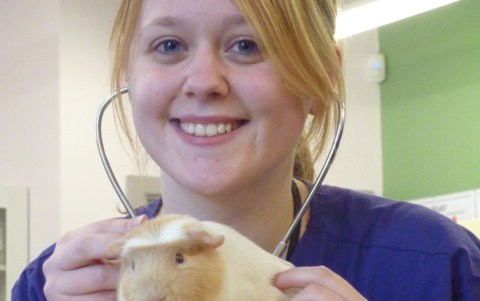 Ice the guinea pig was a model patient when Reaseheath College in Nantwich opened a new veterinary nursing room.
Ice, who has age-related problems, has been nursed back to health by students on a diploma for Veterinary Care Assistants.
She has progressed so well, she was chosen to help show off the new facilities at a launch event for potential students and employers.
The dedicated room is kitted out like a veterinary practice, with preparation, x-ray, operating and recovery areas and a dispensary.
Visitors were also able to tour the college's zoo which has over 1,000 animals including tapirs, monkeys, lemurs and birds of prey.
Donations for the event were collected for the RSPCA's Stapeley Grange Wildlife Centre in Nantwich.
Reaseheath College launched the Level 2 Diploma for Veterinary Care Assistants last year and hopes to launch a Level 3 course in the near future.
Level 2 students must spend three weeks with a veterinary practice before starting the course and must also gain 600 hours of practical experience while studying for the qualification.
The x-ray table and machine were donated to the college by Xograph, the largest independent x-ray company in the UK.
(PIC: Reaseheath veterinary care assistant student Helen Owen, 25, carries out a health check on Ice)