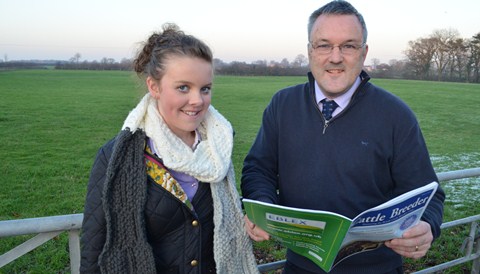 A Reaseheath College student has won a national competition for an essay suggesting how to breed beef cattle for a sustainable future.
Emily Morris, 16, took first prize in the beef category of the British Cattle Breeders' Club's (BCBC) Student Essay Competition.
It was judged by industry experts and attracted entries from all over the country.
Emily, who studies agriculture at the Nantwich college, wrote how she felt the farming industry could answer increased demand for quality, affordable food without harming the environment or affecting animal welfare.
She also looked at new technologies which may help future generations, and was supported by course manager and lecturer Graham Ashford.
Emily, from Mold, presented her work in front of delegates at the British Cattle Conference in Telford and won £100 cash prize.
She said: "I felt that, although most farmers do care about the environment, they were having to put profit first to be able to survive.
"I decided to look at ways in which beef cattle could give the best return while least affecting the environment. I looked at the breeds available, how the quality of food affects growth and at sustainable ways of keeping the animals healthy.
"I really enjoyed the research and learned a lot from it, but I never dreamed that my essay would win the first prize."
Graham said: "Emily has done remarkably well. She is an excellent student and has a very good future ahead of her. She spoke to over 200 delegates at the conference and her presentation was very warmly received."
BCBC Chair Duncan Sinclair said: "The entries were of a high standard, but we were particularly impressed with Emily's mature approach and the obvious research and thought which had gone into her essay."
(PIC: Emily with course leader Graham Ashford)