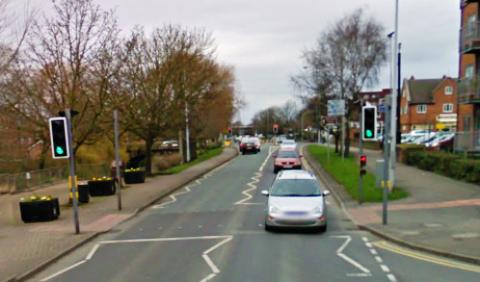 A Nantwich mum and her four children were left shaken after a van driver sped through red lights at a crossing, nearly knocking them down.
Lorna Ellis believes the driver was on his phone and ignored the red lights as they crossed on Waterlode, close to Mill Street, Nantwich.
Lorna was walking with daughters Jessica, eight, Emma, seven, and four-year-old Amy, while pushing four-month-old Sarah in a pram, to Wyche Primary School when it happened at around 8.30am yesterday (February 9).
"We stopped at the crossing near Castle Court on Mill Street, pressed the button and waited for the green man," she said.
"As we were crossing, a small plain white van went speeding past us. Me and the girls nearly got hit, because the stupid driver was on the phone and didnt stop at the lights.
"If I hadn't pulled my eight-year-old back she would have been hit, a split second later and we would of been killed."
"He must have been doing at least 60mph. We were all terrified," she added.
"Usually my husband drives them to school but this morning he had an early hospital appointment.
"I have reported it to the police but there is no CCTV, and the van drove off so fast I didn't get chance to get the registration number, so I can't do much."
A spokesman for Nantwich Neighbourhood Police Unit added: "An incident at a crossing in Nantwich has been reported and any witnesses are asked to contact us."