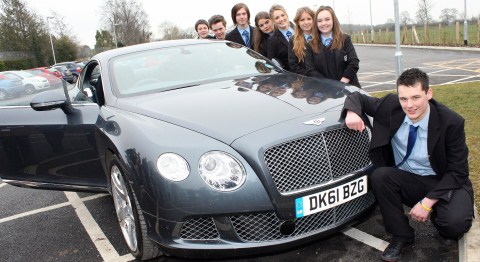 Brine Leas students in Nantwich enjoyed a visit by Bentley Motors as part of National Apprenticeship Week.
GCSE pupils were thrilled when a Bentley Continental GT drove onto the school playground as part of a week long programme of school visits.
Apprentices and training personnel from Bentley have been visiting a different Cheshire school everyday to raise awareness of apprenticeships, particularly those on offer at the Bentley factory.
Pupils at Brine Leas were given a first impression of the car maker by experiencing the Continental GT's contemporary, hand-crafted cabin as well as speaking to craft and business apprentices.
They were also invited to an apprentice open day on February 25 at Bentley's Pyms Lane factory in Crewe.
Jake Gallimore, 15, a pupil at Brine Leas School, said: "The Continental GT was amazing to sit-in and the engine sounded fantastic.
"I will definitely be going to the open day so that I can find out more about what an apprenticeship actually means."
National Apprenticeship Week aims to raise the profile of apprenticeships, the benefits to business and the career opportunities available to young people.
Bentley personnel manager for trainees Julia Gill said: "Visiting local schools means we can speak directly to potential young apprentices.
"Recruiting them is essential for the future success of our business, enabling us to retain key skills which will make it possible for us to develop the Bentley Continental GTs of tomorrow."