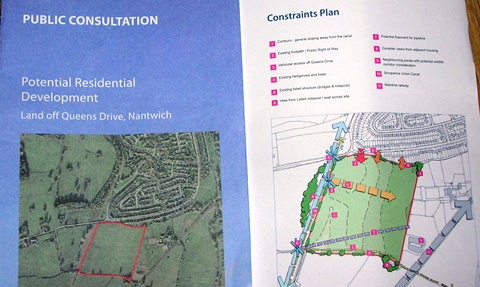 Nantwich residents were left disgruntled when a property firm proposing to build 270 homes failed to turn up to give a presentation.
Around a dozen residents attended Nantwich Town Council expecting to hear from Gladman Developments on proposals for land off Marsh Lane.
The Congleton-based company today apologised for missing the Brookfield Hall meeting, blaming it on a "misunderstanding".
Cllr David Marren said: "We will be writing to Gladman expressing our concern over their non-attendance.
"They asked to make a representation, and various people have turned out to hear them. It's been a wasted effort."
But Martyn Twigg, of Gladman Developments, said: "We can only apologise for what has clearly been a misunderstanding of communication between us and the town council.
"We indicated we could meet to present our proposals on March 5, but we did not receive confirmation of timings or arrangements.
"We have been trying to meet the council since December 15 2011, and it was only recently the council indicated  it would be happy to meet with us. The council has itself already apologised to Gladman for the delays in responding to our initial requests."
Residents at the meeting criticised the proposals in Gladman's absence, saying 270 new homes would be "ridiculous".
One householder said: "We're talking about another possible 500 cars (two per property) trying to get down Welsh Row, it's bad enough as it is and this will just create more problems."
Mayor Cllr Arthur Moran added: "I will be recommending we oppose this application, there are a lot of downsides to it.
"It's going straight into farmland, and it will be increasing problems already there on Queens Drive and Welsh Row."
Mr Twigg added: "We are still very keen to meet the council so we can understand any concerns and to explore how the development can assist the community.
"This is best achieved in a smaller forum rather than a public meeting.
"Many people have already raised a number of concerns which we are trying to address.  The principal concerns relate to the highways and traffic and our highway consultants are addressing this issue in detail."