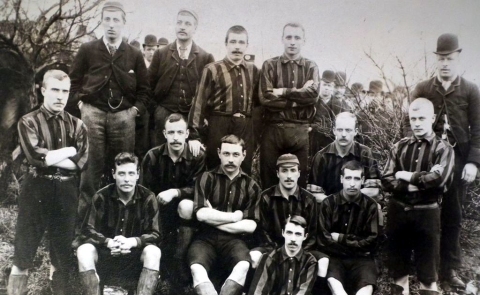 Rare medals, England caps and shirt badges belonging to Stoke City and Port Vale legend Tommy Clare could be sold for up to £10,000 at a Nantwich auction this month.
The memorabilia, being sold on behalf of the family, is part of a two-day sale by fine art and antiques auctioneers Peter Wilson on April 19.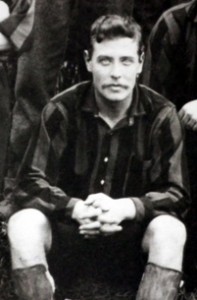 Thomas "Tommy" Clare (pictured) was born in Congleton in 1865 and played his early football with Talke Rangers, Golden Hill Wanderers and Burslem Port Vale, before becoming Stoke City's first professional player in 1883.
He was captain of the Stoke side that was a founder member of the Football League in 1888.
Clare spent 14 years with Stoke, playing 251 games and helping them to take the Football Alliance title in 1890-91.
He signed with Port Vale in 1897 and moved to Manchester City later that year before returning to Vale in 1889, helping them lift the club to the Staffordshire Senior Cup.
Clare earned his first England cap against Ireland on the March 2, 1889, in a match played at Anfield, then the home of Everton, England winning 6-1.
He played three more times for his country before a broken leg in 1898 ended his playing career. He a spell manager at Vale before emigrating to Canada shortly before the First World War.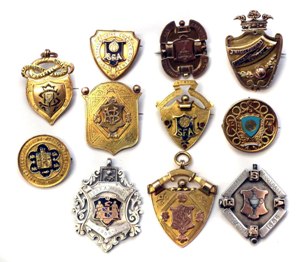 He contracted rheumatism while serving in France with the Canadian army and died in Vancouver in 1929.
Highlight of the collection is a group of 11 medals including four in gold for "'Brilliant Service" with Stoke City dated 1890; a Staffordshire Senior Cup winner's Captain's medal dated 1895 (Stoke City); a medal dated 1896 for Macclesfield Football Contest (Stoke City) and an undated Staffordshire Senior Cup winner's Captain's medal (Port Vale).
There are two silver medals and five unmarked medals, altogether the group worth around £3,000-3,500.
Four England International caps are valued at £800-1,200 each, four England football shirt badges and a collection of photographs and newspaper cuttings valued at £100-150.
Viewing for the sale is on Sunday April 15  2-4pm; Monday April 16 10am-7pm; Tuesday and Wednesday April 17-18 10am-4pm and on sale day 9am-11am.
For details contact 01270 623878 or [email protected]