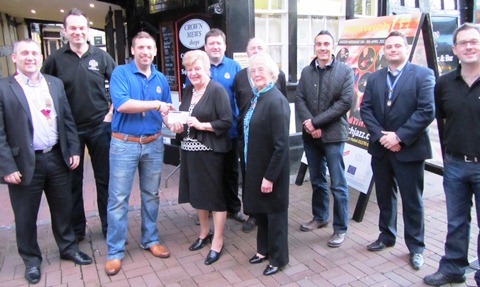 Crewe and Nantwich Round Table has raised £2,000 for the One in Eleven Appeal to boost neonatal facilities for Cheshire babies.
Their efforts will help the Mid Cheshire Hospitals charity towards its £1 million target to create a new neonatal intensive care unit at Leighton Hospital.
They raised the money through member donations and events including a summer ball and Christmas floats.
Members presented the funds to Christine Cooper and Cynthia Parkinson, of the Ray of Hope charity, which has been knitting hats and clothes for babies on the unit for years.
Round Table chairman Luke Regan said: "Crewe and Nantwich Round Table sees the great importance of having a neonatal ward at Leighton and fully support the appeal.
"As many of us are fathers we wanted to support the good work of Chris Cooper and her team as a way of saying thanks for the support they give to families at Leighton Hospital."
Ray of Hope coordinator Christine said: "We won't stop supporting the appeal until they have reached £1m. This is so important and we need to reach out to local people. It is their hospital, their babies are born here and it is their babies that may need the neonatal unit in the future."
The appeal aims to raise £1million over the next two years.
Around 3,000 babies are born at Mid Cheshire Hospitals NHS Foundation Trust every year and one in eleven need additional support, ranging from a few hours of special care to a few weeks in an intensive care unit.