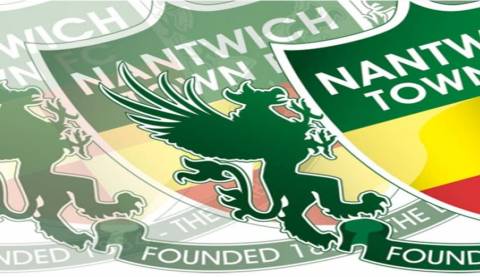 By Andy Martell
A superb second half goal by substitute Tom Urwin secured a deserved win for Nantwich Town at the Weaver Stadium.
The breakthrough came in the 81st minute when fellow Dabbers substitute Josh Lane pushed his way into the Chorley box and found space to pull the ball back across goal.
Urwin showed composure as he placed his shot in the bottom left hand corner, firmly beyond the reach of keeper Russ Saunders.
The hosts largely dominated their final league game at home in front of 417 supporters.
They defended solidly and controlled midfield possession that prevented Chorley from gaining a foothold in the game.
The first half saw a shot from Si Everall deflected away by the Chorley keeper before Zak Foster's volley from the rebound curled over the bar.
The game really came to life in the second half as the Dabbers started strongly.
In the first minute Everall and Foster forced reaction saves from the Chorley keeper and Dave MacPherson saw his shot cleared off the line.
Chorley responded immediately as Chris Denham crashed an effort onto the Nantwich bar.
On 75 minuts, Chorley lost the ball in midfield allowing Sean Cooke to work his way into the Chorley box and get a fizzing low shot away that needed saving by Saunders.
There were challenges by Chorley at the end of each half, but keeper Jon Brain was rarely troubled.
Jimmy Quinn's men now face away league fixtures at Stocksbridge Park Steels and North Ferriby United before they meet Stalybridge in the final of the Cheshire Senior Cup at the end of the month.
Man of the Match: Matt Lowe
Nantwich Town: Brain, Lowe, White, Hughes (Maguire, 82), Moss, McDonald, Flynn (cap), McPherson (Lane, 73), Cooke, Everall, Foster (Urwin, 50).
Chorley: Saunders, Brown, Williams (Roscoe, 52) , Teague (cap), Russell, Parrilon (Bowen, 70), Denham, Flitcroft, Kilheeney, Foster, Ince.