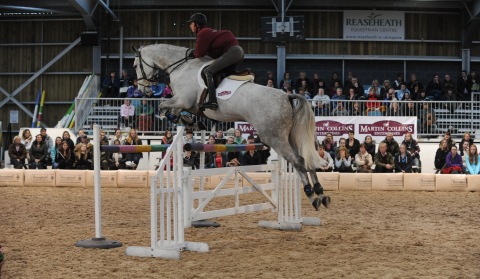 A demonstration by Britain's top showjumper Ben Maher earned a standing ovation from a capacity crowd at Reaseheath College, Nantwich.
Ben, 29, a leading contender for the GB showjumping team at the London Olympics, gave a masterclass at Reaseheath's Equestrian Centre.
He displayed his skills during an informative and entertaining evening which also featured fellow showjumper Geoff Billington, of Nantwich. Geoff has twice been a member of the British Olympic squad.
Two rising stars from Cheshire Hunt North Pony Club also received top tips. Sammy Jo Clare, 16, and Xanthe Goldsack, 12, who both compete successfully at dressage, show jumping and eventing, were selected to take part in the event.
Sammy Jo rode Hang Cool Teddy Bear a 16.1hh, seven year-old gelding.
Xanthe partnered Time for Fenella, a five-year-old, part-bred Welsh x American paint pony.
Xanthe said: "It was amazing. Everything that Ben said made sense and should really help me."
Ben will soon hear whether he has been selected for London 2012 in June. He represented Britain at the 2008 Beijing Olympics and at two European Championships.
He was crowned leading rider at the London International Horse Show, Olympia, at Christmas and has been successfully competing at top level abroad in Switzerland, the USA and Hong Kong.
Ben said: "I think the event went very well. Everyone was very welcoming and the facilities were great.
"I tried to cover aspects from all areas of showjumping so I could reach as wide an audience as possible. I never stop learning myself and I'm hoping everyone learnt something useful they could take home."
The masterclass was part of a series of events at the college's  indoor riding arena, opened by HRH The Queen in 2010.
Click here to view Ben training and talking about his hopes for the London Olympics.