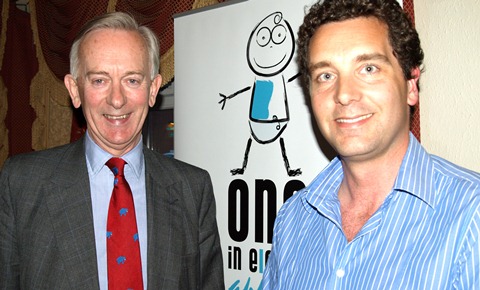 More than 130 people turned out to celebrate the official launch of the One in Eleven Appeal.
These included patrons of the appeal, Lord Lieutenant of Cheshire David Briggs and MP for Crewe and Nantwich Edward Timpson.
Mid Cheshire Hospitals Charity One in Eleven Appeal aims to raise £1 million to create a new neonatal unit at Leighton Hospital.
"It was over a year ago when we started to consider how we could enhance the unit to enable us to continue providing excellent care into the future," said John Moran, chairman of the Mid Cheshire Hospitals NHS Foundation Trust.
"We have had some fantastic champions for the appeal to get to this point, including Mid Cheshire Hospitals non-executive directors David Hopewell and Val Godfry, our fundraising manager Laura Bailey and many families who have needed the care of the unit.
"We have already raised £200,000, so we are almost a quarter of the way to hitting our target.
"We thank our supporters for everything they have done so far and everything they are going to do for us in the future."
Guests watched a film showing babies that have been cared for on the neonatal unit, images of how the new unit will look, and enjoyed a buffet, live 'jukebox' entertainment by Jazz Swing Vocalist David Bradley and a raffle.
Donations collected on the night at Hunter's Lodge in Crewe raised £650.
Simon Dowson, clinical lead for paediatrics at Leighton Hospital, said: "We knew the unit provided excellent care, but the space we have isn't designed for what we need it to do. To move forward we need more space to give babies and their families the dignity and privacy they need."
To support the appeal call fundraising manager Laura Bailey on 01270 273248 or email [email protected]
(Pic: 'Buggy Buddies' Sara Hancock, Becky Brookes, Kate Lindop and Caroline Lowther. Caroline set up the Buggy Buddies group in Nantwich in 2010. Mums and babies meet once a week for a group walk. They have raised £3,000 for the neonatal unit)