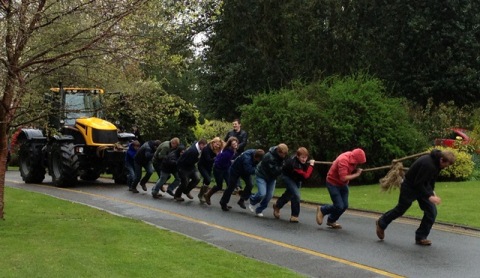 College students in Nantwich have been busy raising funds for good caundatioses.
Teams of students at Reaseheath College have been involved in a series of events as part of their RAG (Raising and Giving) Week.
Among the events was a Hollywood-themed ball, fire-walking, a tractor pull, a visit by a hypnotist, staff being dunked in a splash tank and charity collections in Liverpool, Nantwich and Crewe.
The ball, organised by Events Management students Katie Thorburn, Ben Lloyd, Jamie Harrison, Katie McRoberts and Jen Taylor, and attended by almost 200 students and raised over £600 in ticket sales.
It was held in a marquee on the college lawn and featured an "Oscars" style presentation to the best dressed students.
Team Leader Katie Thorburn: "We had a really good night out and also raised money for RAG. We'd like to thank everyone who helped, particularly our sponsors."
Money raised during RAG Week will go to The Oliver King Foundation – a charity set up in memory of a 12-year-old who died of Sudden Arrhythmic Death Syndrome (SADS).
The condition causes sudden death in apparently healthy young people aged between 12 and 35.
Last year, students and staff handed over £20,000 for charity, £16,500 of which was raised through RAG activities.