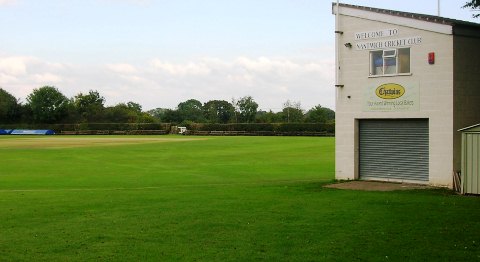 Nantwich CC 1sts were beaten in a tight finish at table-toppers Oxton.
The visitors posted a score of 169 all out against the league leaders' tight bowling attack.
And Nantwich's own bowlers almost pulled off an excellent result, but Oxton scrambled to 172-9 to win by one wicket.
Nantwich's batsmen will be rueing the fact they had overs left when they were bowled out.
Louis Bentley and skipper Ray Doyle contributed 51 each, by they were dismissed for 169 in just under 51 overs leaving their hosts 59 overs to chase down their target.
Fernando (4 for 67) and Andrew Birley (3 for 35) were the pick of the home attack.
Doyle rotated his bowlers well as Oxton also struggled with the bat.
Jimmy Warrington restricted scoring chances and posted fine figures of 4 for 58 off 24.1 overs.
A score of 42 from Worcestershire's staff member Gareth Andrew and an unbeaten 58 from Ross Dixon gave Oxton a fighting chance, but they still needed 20 when last man Birley came to the crease.
However Nantwich could not break the last wicket pair and Oxton reached their target with five balls remaining.
Nantwich now lie eighth in the Cheshire County Premier League, with Oxton's four victories from four leaving them on 100 points and clear leaders.
Better news for Nantwich saw victories for the 2nd, 3rd and 4th teams.
The 2nds beat Cheadle at Whitehouse Lane on Saturday (May 12), while the 3rd team notched an impressive four-wicket win away at Heaton Mersey yesterday (May 13)
The 4th team beat Winnington Park at home by 37 runs.