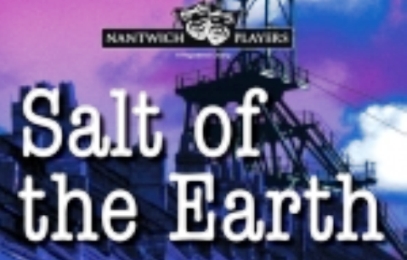 By Claire Faulkner
Perhaps it's my sense of humour or the way life is portrayed in that part of the world.
But I love to see a drama set in the North of England – and The Nantwich Players' comedy drama "Salt of the Earth" delivers the goods.
The Players give all the audience something to relate to in this production, which follows the lives of the Parker sisters between 1947 – 1988.
Set in a working class mining town in West Yorkshire, both girls fall in love and marry miners. We follow their dreams, ambitions and family life through this wonderful production.
Directed by Richard Sadler, the cast powerfully fills the stage portraying the characters with strength, dignity and emotion.
Written by John Godber, the play tackles family relationships set against the work ethic and politics of a Northern town.
Katy Hooper's poignant and tender portrayal of 'Annie' will no doubt leave the audience moved.
Cast opposite is Lucy Desmond who plays 'May' with equal emotion and heart-rending dignity. Both were well cast and deserve congratulations on their performances.
Anthony Jenkin and Harry Johnson must also be mentioned for the wonderful and awkward hospital scene between father 'Harry' and son 'Paul'.
This is another first class production from The Nantwich Players.
"Salt of The Earth" is showing between May 18 and May 26. I hope you get to see it.