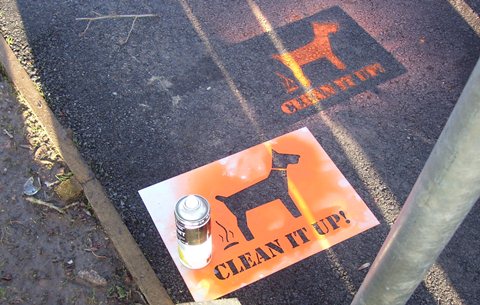 Dog wardens are targeting irresponsible pet owners who don't cleam up in the Nantwich villages of Willaston and Rope.
Councillors and villagers have welcomed the crackdown which involves stencilling dog mess and wardens in plain clothes watching owners.
Willaston and Rope Cllr Brian Silvester said: "A minority of dog owners do not clean up after their dogs and this is very annoying to residents and is a health hazard.
"Wardens have been active in the parish and sometimes they are in plain clothes. Where dog fouling occurs wardens spray on a stencil to warn owners of the need to clean up after their pet.
"The stencil image stays on the ground for 4 to 6 weeks and sends out a clear message the wardens are operational in the area.
"This action is followed up with a leaflet drop to houses overlooking the problem areas, asking people to report any dog related issues."
He said uuniform and none uniform foot patrols will continue alongside the stencilling,  which has been funded by Rope Parish Council.
"If wardens witness people failing to pick-up after their dog they issue a fixed penalty notice of £50 to the offender," added Cllr Silvester.
Bob Squirrell, chairman of Rope Parish Council, said: "It was particularly annoying the worst area for fouling in Rope was right next to a dog waste bin and a notice board displaying a poster asking owners to clean up after their dog.
"Since the wardens started this campaign we have seen a significant improvement and we hope this will continue."