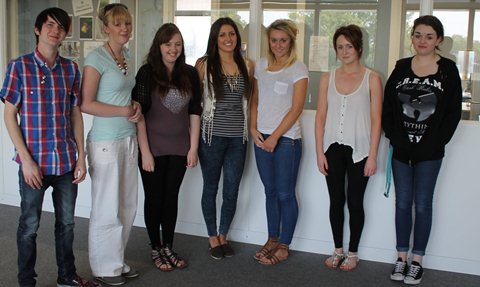 An Olympic hopeful from Nantwich has been giving top tips to students at South Cheshire College.
Charlotte Bradbury, 16, from Willaston, has her sights set on representing Great Britain in swimming.
She is hoping to compete in the 200 metres breaststroke at the London 2012 Olympics.
She joined fellow Olympic hopeful Elly Donaldson, 17, from Crewe, who has linked up with the UK under 19 bobsleigh development squad and is fighting for a place in the 2014 Winter Olympics.
The pair spoke to Health Science and Health and Social Care students in college about their training schedules and how they prepare for competitions and trials.
They also delivered a session to AS-Level PE students which focused on how they handle pressure and go about securing funding and sponsorship for events.
Charlotte (pictured, centre) is currently ranked fourth in the UK open age category but needs to move up to second position to secure an Olympics spot.
She has been working with fitness instructor Jon Venables to build up the strength in her lower body and improve her stamina.
Sports Lecturer Rob Pickersgill, who co-ordinated the talks, said: "Both girls really inspired the groups of students they spoke to at college.
"We wish them all the very best as they aim to represent Great Britain in different sports and hope they fulfil their dreams."