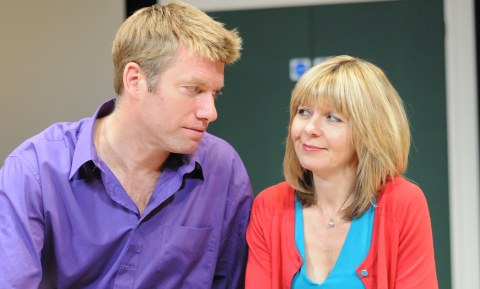 By Claire Faulkner
Kiss Chase follows four old friends who, locked inside the gym at a school reunion, reminisce about old times and lie about new ones.
Written by Philip Gladwin, and directed by Patric Kearns this production is an interesting and thought-provoking drama.
Raw and emotional at times, the audience learns about relationships between these four characters, and how 30 years on their roles really haven't changed.
They were just 15 when their friend Susanna died tragically in a fire.
John, played superbly by Marcus Hutton, was in love with her, and during the course of the play decides to find the truth about how she died.
The cast is excellent. Stephen Beckett as Mike, gave a strong performance alongside Ben Roddy as Pete, who both reveal secrets from the past which relate to the night Susanna died.
One intense scene, shows the true nature of their characters.
These two actors gave such a powerful performance I felt I was going to shout out from the audience about what they were doing to the other characters on stage.
Jenny Funnell played Debbie with emotion and empathy, the girl who it seemed has everything to live for.
But Debbie also reveals a secret to John, the night of the fire, she lied and gave someone an alibi.
If you like good quality drama which builds with characters and storyline develop, then I recommend this production.
Kiss Chase is presented by Talking Scarlet and is showing for the rest of the week at the Lyceum.