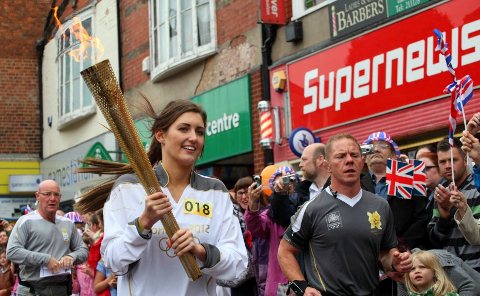 Among the nine Olympic Torchbearers who carried the Flame through Crewe today were three homegrown residents.
Nantwichnews contributors captured them with these great pictures during their historic journeys around the town.
One torchbearer was Andrew Fewtrell, 49, from Crewe. He works with people to help change their lives, as part of the Up and Under Group. He was named local employer of the year 2010 and regional nominee 2011.
Through his Up and Under Foundation charity founded in 2007, he provides funding for less well off youngsters to have life changing experiences through a variety of adventure activities.
Charlotte Bradbury, 17, of Willaston, Nantwich, is bidding to represent Team GB at the London Olympics.
The holder of the British record in 200m breaststroke, was selected by Lloyds TSB Local Heroes programme because of her commitment and dedication to her sport of swimming and inspiring young people in her local community to take up more sport as part of National School Sport Week.
Stephanie Lawley, 45, from Crewe, set up a youth club for disabled teenagers and those with learning difficulties in the town.
The club combines days based at the youth centre with days out ranging from trips to the Isle of Man and visits to watch Crewe Alex football sessions.
"I want them to see that having a disability doesn't mean you can't do it you just do it in a differnet way," said Stephanie.
Other torchbearers in Crewe included Maria Carmen Ruiz De Vargas, 45, from Barcelona; Charlene Dolan, 21, from Manchester; Dave Summers, 44, from Stafford; Kevin Healey, 38, from Staffordshire; Marc Heames, 44, from Sutton Coldfield; Russell Cox, 29, from Stone.
Their stories can be found in detail at http://www.london2012.com/torch-relay/torchbearers/community=crewe/index.html
Pictures courtesy of Simon J Newbury, Jonathan White, Steve Grimshaw and Craig Buckley.