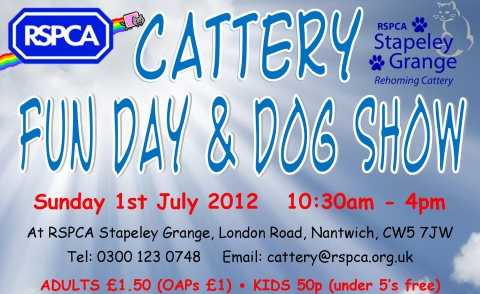 Stapeley Grange Wildlife Centre is staging a Cattery Fun Day and Dog Show on July 1.
The centre, based on London Road, Nantwich, is preparing for one of its biggest days of the year with the open day.
As well as a dog show, there will be a performance by the Delamere Dog Display Team.
Fun and entertainment includes tombola, bric-a-brac, games, tours, books, raffle, a ferret rescue display, and plant sale.
Centre manager Lee Stewart said: "If you live or plan to be nearby on the day please drop in and bring your dog.
"The Cattery team are seeking support from members of the public for second hand items to sell on the day and cakes.
"The team are also asking everyone to prey for a sunny day, which will be a first for us!"
Entry if £1.50 adult, 50p for kidsm under 5s free. It will run from 10.30am to 4pm on July 1.
The centre is also organising a limited number of "Behind the Scene Tours" for people interested in seeing what goes on at one of the busiest wildlife centres in the country.
Tours are limited by access and in number (8 tours x 10 people) so contact the centre on 0300 123 0748, or email [email protected]
Tours will cost around £4 per person.