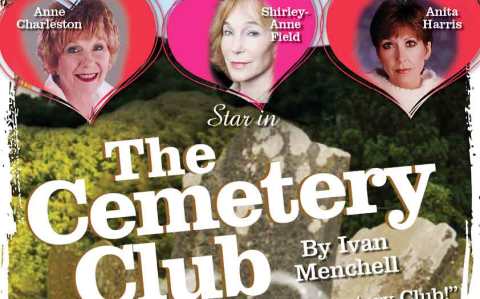 By Claire Faulkner
It was a pleasure to see so many people at The Lyceum for the opening night of 'The Cemetery Club'.
With lots of laughs and a couple of tears, this production explores the relationships of three friends who try to cope with the death of their husbands.
The leads, Anne Charleston as 'Doris', Shirley-Anne Field as 'Lucille' and Anita Harris as 'Ida' delighted the audience who had packed into The Lyceum on opening night (June 12).
All three gave wonderful performances, and worked well together – each taking their roles and making them their own.
Former Neighbours star Charleston was brilliantly cast, as the compassionate and kind-hearted 'Doris'.
Shirley-Anne Field portrayed the flamboyant 'Lucille' with appropriate humour and style, and Anita Harris was brilliant as 'Ida'.
The audience roared with laughter and particularly appreciated the scene when all three ladies had drank a little too much at a wedding.
Presented by Ian Dickens Productions, this charming and funny production is on at The Lyceum runs until Saturday (June 16).
If you enjoy warm hearted comedy, this one is for you.
For ticket details visit www.lyceumtheatre.net