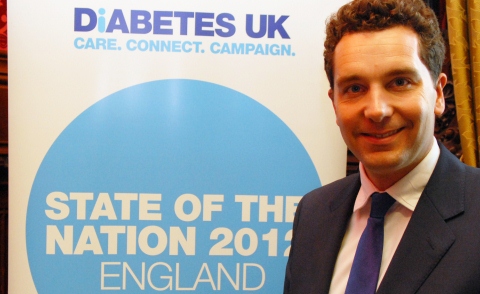 Nantwich MP Edward Timpson is seeking talks with Cheshire NHS leaders in a bid to boost diabetes healthcare.
Mr Timpson has backed calla by Diabetes UK for a national plan to improve the care of people with diabetes.
Diabetes UK's State of the Nation 2012 report revealed just half of people with diabetes are getting basic checks and services they need to manage their condition.
And the charity is urging the Government to implement a national plan.
Mr Timpson said: "As the Diabetes UK report shows, people with diabetes in Crewe and Nantwich and across the country are not getting the healthcare they need.
"If we don't act now to improve diabetes healthcare then greater numbers will be at risk of developing devastating health complications such as blindness and amputations.
"The Government must put diabetes at the top of its agenda if we are to prevent what is fast becoming a crisis.
"In Crewe and Nantwich I will be talking to local NHS leaders about what can be done to improve diabetes healthcare in my constituency."
Barbara Young, chief executive of Diabetes UK, said: "We are pleased to have Edward Timpson's support on what is a very important issue.
"Our State of the Nation report shows many people with diabetes are being badly let down by the poor quality of services on offer, which puts them at increased risk of developing life threatening complications and premature death. This is simply not good enough."
Diabetes UK's State of the Nation report can be viewed at www.diabetes.org.uk