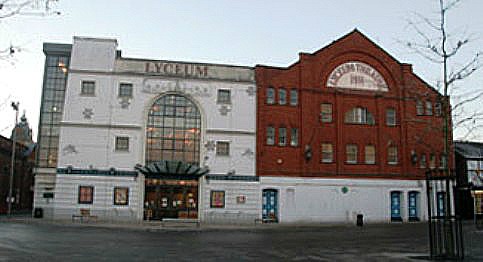 By Claire Faulkner
Of course I'd heard of Buddy Holly, and knew of his tragic death in 1959.
However, music from 50s America is not my speciality. So going into The Lyceum with my dad was slightly out of my comfort zone.
"Buddy Holly's Winter Dance Party" recreates the last historic tour of Buddy Holly and the musicians who supported him.
The Lyceum was packed with people waiting to hear songs from tribute acts of Buddy Holly, Dion, The Big Bopper and Ritchie Valens.
As the music started the atmosphere grew, and the performers were amazing.
Marc Robinson as Buddy Holly opened the show. His performance of famous numbers such as 'Peggy Sue' and 'That'll Be The Day' demonstrated a talent which won hearts.
Tim Harwood as Ritchie Valens had the audience up and dancing in the aisles, while Michael King as Dion had us all singing along to a number of hits, including 'Teenager In Love'.
My personal favourite, however, was Jaymz Denning who portrayed "The Big Bopper" with all the style and fun his memory deserved.
The performers were complete professionals and worked incredibly hard and well together to make the show one to remember.
They each took to the stage and sang a fabulous version of "Great Balls of Fire" together in the finale.
It is a testament to a good show when the audience are still shouting for more and not leaving their seats when the lights go up.
"Buddy Holly's Winter Dance Party" is full of 50s fun and gives you hit after hit.
So the next time it comes to The Lyceum, go along and maybe you'll be dancing in the aisles.