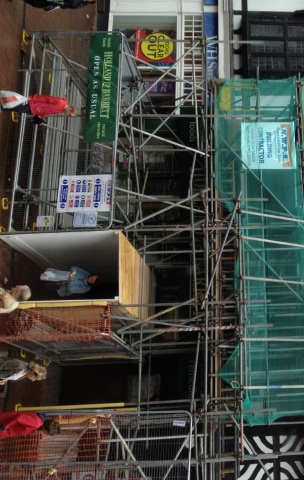 More repairs are being carried out on the Holland & Barrett store in Nantwich – almost two years since dramatic "slippage" incident.
Work is currently ongoing on the premises' weight-bearing walls and internal joists up to the top (fourth) floor.
The store and surrounding buildings were evacuated and the area cordoned off back in September 2010 over fears the building could collapse.
Nantwichnews reported at the time how it was thought the structure had dropped by "two feet", sparking police and structural engineers to seal off that area of the town square.
The alarm was raised by workers carrying out repairs to the shop's facade, who felt the sudden dramatic shift.
The current work is believed to be related to the damage the building suffered during that incident.
An employee said the process may take "months".
(pic by Jonathan White)