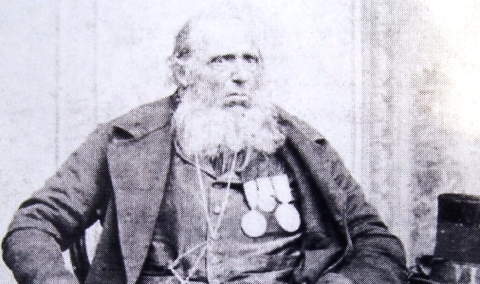 A medal awarded to the man who aided Lord Nelson after he was shot and killed in the Battle of Trafalgar, could sell for £20,000 at a Nantwich auction.
It was feared the Naval General Service Medal with Trafalgar clasp, awarded to James Sharman, would never come on the market again.
An attempt to sell it in an internet auction went sour, but now it has resurfaced and will be offered by Nantwich fine art auctioneers Peter Wilson on July 11-12.
In 2008, a hoaxer used a fake ID in the internet auction and then disappeared, forcing the sale to be aborted.
But before the collapse of the eBay sale, a collector had contacted the seller with an offer too good to refuse.
Now the collector is selling it once more.
"I've had the great pleasure owing it for the last four years," he said.
"But now I've decided to put it back on the market so another collector – or perhaps a museum – can have the pleasure of enjoying it."
Sharman is one of only a few men whose heroics on HMS Victory were recorded specifically.
Not only did he apparently tend to the dying Nelson but he was so well regarded that when a memorial to Nelson was built in Great Yarmouth, Nelson's best friend, Captain Masterman Hardy recommended him as its first custodian.
He was also the inspiration for the Charles Dickens character Ham Peggotty in David Copperfield, forever immortalising a Trafalgar survivor in English literature.
The medal can be seen before sale at the auctioneers in Market Street, Nantwich, on Sunday July 8 from 2-4pm, Monday July 9 from 10am-5pm andTuesday July 10 from 10am-4pm.
For further information contact Chris Large on 01270 623878 or [email protected]