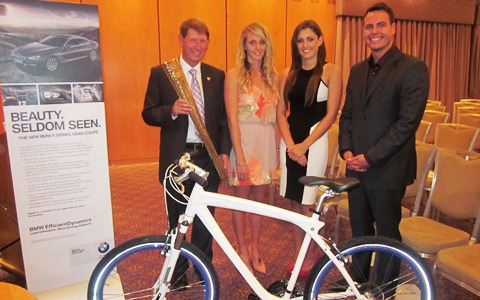 Willaston swimming sensation Charlotte Bradbury has earned another accolade.
The teenager has been crowned "Blue Bell Crewe Young Sports Personality of the Year" at an Olympic celebration event at De Vere Wychwood Park.
Local Olympic qualifier Fran Halsall was also at the event. She helped the team in judging the dealership's prestigious Young Sports Personality of the Year Award.
Charlotte, 16, was presented with the coveted title and a state of the art BMW mountain bike worth £800.
Charlotte trains with the City of Liverpool Swimming Club, and has already competed in the Youth Olympics in Finland in 2009, was the 2010 British age group record holder in the 200m breaststroke, and has been the National Youth Champion in the same event for four consecutive years.
Runner up was Lucy Burgess, 18, from Calveley, near Nantwich, who received a cheque for £75. Third place was Felicity Martin, 16, from Wistaston, who won a cheque for £50.
Lucy is a member of Northwich Rowing Club, who currently holds the title of the fastest young female rower in Great Britain and won a gold and silver medal at the prestigious Munich Regatta.
Gymnast Felicity trains with the Cheshire Academy, twice represented Great Britain as an ambassador in the Special Olympic Summer Games in Uzbekistan, and as part of Team GB in the prestigious World Games.
This summer, Fran will compete in the 50m and 100m Freestyle and 100m Butterfly events at the London 2012 Olympic Games, as well as being a part of the freestyle and medley relay teams. She is sponsored by Blue Bell Crewe.
Barry Holt, dealer principal, said: "The local area is brimming with excellent sports clubs and plenty of talent, so it was a fantastic opportunity to give the young sports stars of the region the recognition they deserve."