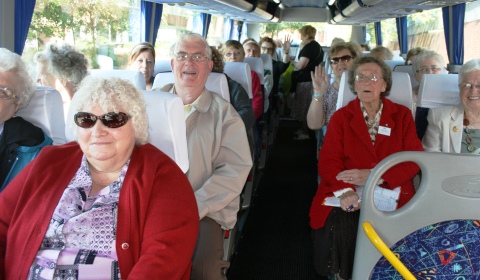 Crewe and Nantwich branch of the Northern Pensioners Association visited the 20th Pensioners Parliament in Blackpool.
The 36-strong group's visit, funded by local housing provider Wulvern, included lively debates and discussions on transport, social care 'granny tax' and pension reforms.
Keynote speakers included Janet Davies (head of nursing RCN), Dr Jacky Davies (NHS Consultants Association), Carole Auchterlonie (director of outcomes and learning, Health Ombudsman), and Sue Coe (inquiries and investigations manager for the Equality and Human Rights Commission).
Secretary Hugh Emerson said: "We had an absolutely fantastic day out.
"The association deals with matters that affect people, especially pensioners, living in the Crewe and Nantwich area.
"The annual conference is an ideal opportunity to raise any concerns and get our points of view heard."
Rachel Cornes, Wulvern's healthy, wealthy and wise coordinator, added: "Wulvern is delighted to support the Northern Pensioners Association.
"Our organisations are committed to improving the quality of life for older people across the area."
The Northern Pensioners meet on the last Tuesday of every month at Crewe Library at 2pm.
For more details or to join the Northern Pensioners Association, contact Hugh Emerson on 01270 664645.