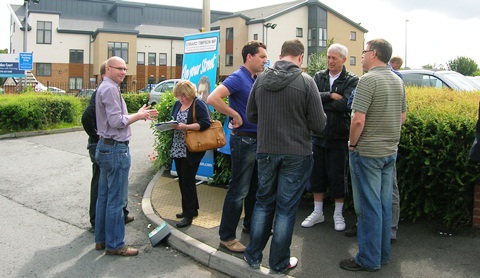 Dozens of campaigners gathered with local councillors and MP Edward Timpson to launch a petition against a massive Nantwich housing development.
Hundreds of residents have already objected to Muller Property Group's bid to build a 1,000-home "Nantwich South" site in Stapeley.
Many more signed the petition today (July 14) alongside Mr Timpson and Cheshire East councillors for Nantwich South Andrew Martin and Peter Groves, outside the shopping arcade on Stapeley's Cronkinson Farm estate.
Campaigners fear the plans would cause too much pressure on already busy road networks, increase pressure on stretched services like schools and doctors, and lead to a loss of valuable green space.
Mr Timpson told NantwichNews: "This development has been on the radar of local residents for quite some time, and now it is reaching a crescendo.
"It is clear to me that this is not just a handful of people objecting, this is a widespread view across the whole community that this is the wrong application in the wrong location.
"It is incumbent on me as their representative to ensure that their voice is heard.
"The purpose of today is to raise people's awareness of the application, but also for people to show support for the "Protect Stapeley" campaign which has been going on for a few months."
The petition already has 500 names, and the campaign group believes they will gather thousands more.
"The principle concern remains the impact on the road network, which is already under considerable strain. This is what residents fear most," added Mr Timpson.
Nantwich Town Council believes the proposed development near Reaseheath College, north of the town, is a more viable option for providing additional housing needs.
Nantwich South and Town Cllr Andrew Martin said: "There are massive issues with the Muller proposal, on infrastructure, schools, transport, doctors etc.
"I don't see how the transport in and out of such a large development can be viable.
"This sort of mass development will see Stapeley not as a green and pleasant land but as one large housing estate. If we keep building on land we'll end up in Stafford!"
He backs calls to support the Reaseheath development as it would be closer for people to walk into town and be on the right side of the railway.
Muller Property Group say they plan to submit an initial outline planning application to Cheshire East Council in August and hold a further public consultation exhibition.