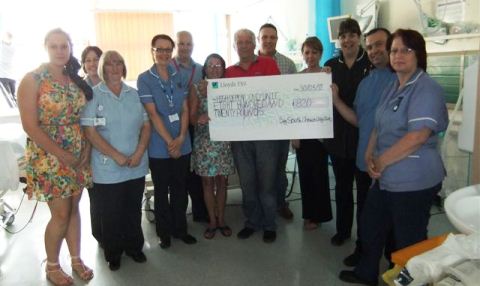 A charity Clay Pigeon shoot has raised over £800 for the High Dependency Unit at Leighton Hospital.
South Cheshire Clay Club staged the event after one of their members Julie Pyner was cared for in the unit.
Dave Lawton, owner of the club, said: "Julie was very well looked after – the attention to care was above any of our expectations and the service that she received was second to none.
"So, as a group, we all felt we should do something to raise money as a thank you.
"Staff at the club gave their own time on the day, despite the bad weather conditions, and an excellent time was had by all.
"We even managed to get some of the staff from the unit out in their wellies to have a go! We raised £820 for an excellent cause, and we are looking to make this an annual event to continue to support the staff on the unit with the great job that they do."
Sian Axon, clinical service manager for the unit, said: "I would like to thank the South Cheshire Clay Club for their efforts in raising this money.
"It will help us to continue to offer a high quality service to our patients, both now and in the future, and it is greatly appreciated by everybody involved with the unit."