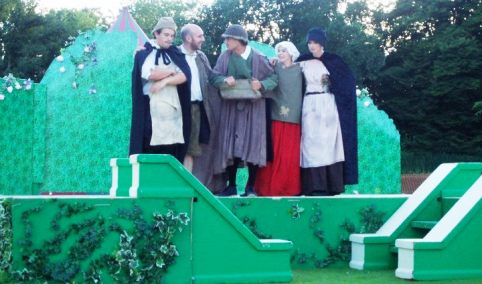 By Claire Faulkner
Reaseheath College provided the perfect Nantwich setting for an open air performance of "A Midsummer Night's Dream" by Chapterhouse Theatre Company.
Directed by Sarah Gain, the play captured the hearts and imagination of the audience which gathered in front of the lake at the college.
The audience had brought blankets, picnics and chairs to make it an evening out to remember.
And by the interval, candlelight helped to create a magical atmosphere which complimented the fun, magic and laughter which appears in this love and adventure story.
The cast was great, and a particular favourite with the younger members of the audience was "Puck" played by Lawrence Boothman.
He was suitably mischievious and larger than life as he created magical havoc among all the other characters.
Maria Lovelady was outstanding as "Hermia", and the audience simply loved her performance as 'lion' and 'wall' at the wedding celebrations.
Marcus Houden gave a strong performance as "Oberon", and Holly Strickland shone as "Helena".
Chapterhouse brought with them a friendly family atmosphere which encouraged the children present to play and interact with the characters during the interval, helping to bring Shakespeare to life for many of them.
I do hope they return to Nantwich soon.
(Pics and words by Claire Faulkner)