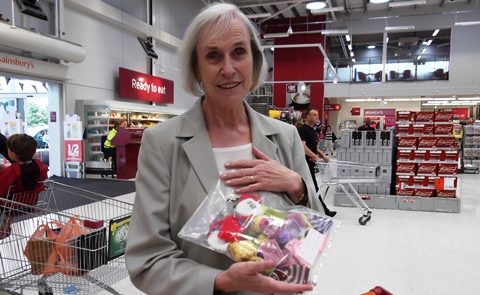 Nantwich shoppers of all ages have risen to the challenge to knit Smoothie bottle hats for charity!
More than 1,000 hats have already been donated to Sainsbury's in Nantwich, who will donate 25p to Age UK for every one knitted.
Last year, over 1,700 hats were knitted and the store is hoping to double this with the support of Motorcise in Crewe and Richmond Village Nantwich.
Nantwich Sainsbury's spokeswoman Olwyn Payton said: "It has been absolutely amazing that so many people have been inspired to knit – hats have been handed in by both young and old.
"One little girl had never knitted anything before and was so proud to have knitted a hat for the charity."
One customer Gill Bolton stunned staff when she brought in a whole bag of hats that she'd had great fun knitting with her granddaughter Gerorgina.
Patterns are free and can be collected from the customer service desk at Sainsbury's, along with free wool.
Donations of wool are welcome and hats need to be received by September 15 at Sainsbury's, Richmond Village or Motorcise in Crewe.