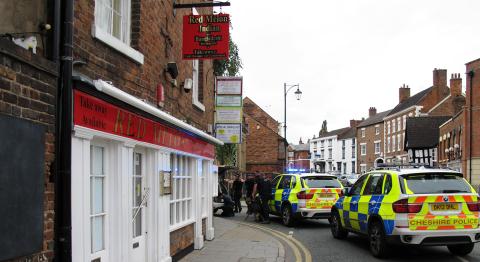 These are the dramatic moments armed police swooped on Welsh Row in Nantwich, caught on camera by a sharp-eyed Nantwichnews contributor.
The busy street was sealed off as armed officers reacted to an incident which started in Crewe town centre.
It ended with arrests of two men after a taxi was surrounded by police at the junction of Welsh Row and St Anne's Lane.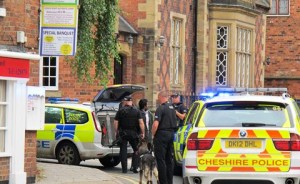 A Cheshire Police spokeswoman said officers were called to two separate reports of men behaving suspiciously in Crewe town centre.
"Initial reports suggested that one of the men may have been in possession of a firearm.
"A thorough search was made of the area by appropriately trained officers and the decision was made to stop a taxi, which was in Welsh Row in Nantwich, for the purposes of a search.
"Two men were arrested at the scene on suspicion of possession of a firearm. They have been taken to custody and inquires are continuing.
"The two men aged 21 and 22 were released on police bail pending further inquiries."
The incident happened at around 4pm on Friday (August 24).
(pictures courtesy of Charles Belanger)