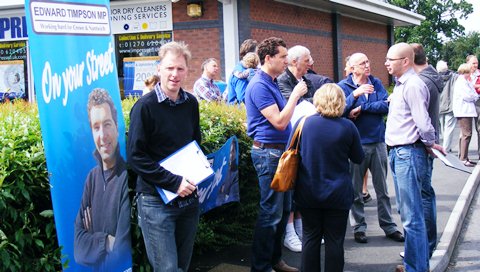 Nantwich MP Edward Timpson has issued a plea to residents in Stapeley to back the fight to stop more housing developments.
He believes the "power of the people" which stopped the Parkers Road traveller's site in Crewe should give villagers heart.
Mr Timpson has joined local councillors Andrew Martin and Peter Groves in throwing their weight behind the '"Say No to Development in Stapeley" petition being run by Protect Stapeley action group.
They are against outline proposals from Muller Property Group for more than 1,000 homes sandwiched on a "Nantwich South" greenfield site between Audlem Road, London Road and Peter de Stapleigh Way.
Mr Timpson, who has posted a joint petition for residents on his website, said: "My experience in helping to defeat the proposed Parkers Road Travellers Site shows we can prevent developments by seizing the initiative and working together as a community.
"Many residents understandably don't want to lose the green land surrounding their homes to new buildings overcrowding the local area and I will help them, alongside the local councillors, to fight to prevent this from happening.
"As an MP I have no direct influence on the planning rules or processes of Cheshire East Council, but I promise to do what I can to support the Stapeley Action Group."
A spokesman for Protect Stapeley said: "The 'In Touch' magazine produced by Mr Timpson, has an article that strongly opposes any housing development in Stapeley.
"This, together with the 'Say No to Development in Stapeley' petition is great news for the Protect Stapeley campaign."
Stapeley Parish Council is staging a public meeting to discuss the developments on September 20 at Pear Tree Primary School.
Cllrs Martin and Groves along with Leader of Cheshire East Council Michael Jones, will be attending. It starts at 7.30pm.
Residents can also visit an exhibition of the draft Town Strategy in Nantwich Library until October 1 2012, and can take part in Nantwich Town Council consultation sessions on September 4 and 6 from 5pm and 7pm.